Treasury - the perfect addition to your skill set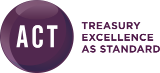 Register today for the ACT annual conference, 5-8 October
The highlight of the treasury calendar moves online for 2020
Join ACT as they explore 'Balancing risk: championing sustainable growth' in their first online annual conference. With essential timely content, a fresh new format, and accessible from anywhere in the world, this is a virtual event which is not to be missed.
What is treasury?
Businesses must raise money to pay for what they need to run that business. Treasury knows how and where to raise money and how to get this money, together with the money from profits, to where it needs to be. Treasury knows how to invest spare cash safely. It understands the risks a business faces and how to measure and respond to them. Treasury is a key enabler of business strategy and driver of shareholder value.
What's the difference between treasury and accountancy?

Treasury is not accountancy, however the two complement each other perfectly.

Accountancy is a key function in any organisation keeping all financial transactions in order. Treasurers are strategic financial managers managing the liquidity of a business and their decisions directly impact the profit, loss and financial health of a company. The most effective CFO's combine the two skill sets to ensure they're approaching all their decisions in the most informed manner.

ACT - find out more

The Association of Corporate Treasurers (ACT) is the chartered body for treasury professionals. The ACCA and the ACT are partner professional bodies, working together to further the development and raise the profiles of finance professionals. Find out more about the ACT and treasury as a profession.
Expanding my skill set with ACT
If you're looking to open doors to improve your career opportunities, then look no further. The ACT sets the industry benchmark qualifications in treasury.
Special exemptions available
Fast track your way to success – the ACCA and the ACT have worked closely together to map our syllabi and assessments and where there is overlap, exemptions apply (subject to fees).
See what other ACCA members say about treasury and ACT

If you'd like to find out more about treasury, speak to someone about how treasury can complement your career or find out more about any of the qualifications call the ACT learning team on +44 (0) 20 7847 2529 or email ACT.

All exemption information and fees correct at time of publication. Access latest updates.