Olivia Willis
Olivia Willis is a Senior Internal Audit Manager at FNZ Group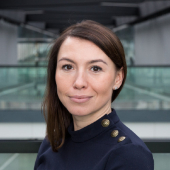 Following my graduation from university in Poland, I moved to the UK to start my first job at a small wholesale company in Scotland. I was promoted to office manager and in my role became a key contact for their accountants, a function that was outsourced. I liked the experience of liaising with the accountants and felt like that may be something I wanted to pursue. I therefore chose to do an accountancy qualification with the Association of Chartered Certified Accountants (ACCA) mainly because of its global presence. It is widely recognised, and I wanted to give myself flexibility to work in another country at some point.
After a year, I needed to integrate my studies with some practical experience. I moved into the Finance sector initially in operations at Morgan Stanley. After that, I took up a role as a P&L controller which provided me with some good experience that allowed me to complete my ACCA practical experience records. While at Morgan Stanley, I was able to complete my exams within four years.
Working and studying at the same time was a big commitment, but I managed to qualify with ACCA, which was a big achievement for me. I can definitely say that ACCA opened doors for me and helped me in my job applications.
My first internal audit roles were at Royal Bank of Scotland and PwC. After that I went to EY where I was promoted to a senior manager role in assurance. Here my work was across all three lines of defence, and I was on some projects and in finance, while also auditing finance for different clients. This provided me with a broad experience across projects, as well as assurance and delivery, and prepared me for my current role as senior manager within the internal audit function at FNZ, the leading global wealth management platform.
Financial Services is faster-moving than many other industries because, among others, of the breadth of regulation. Indeed, Financial Services is highly regulated and so internal audit has a bigger role to play within a company than in other sectors. From that perspective, I probably have a more interesting and easier job than in other industries that are not as heavily regulated.
Since I joined, FNZ has grown rapidly both organically and through acquisitions. This is a great opportunity as it means that I can work with different people from various countries and from different backgrounds. I enjoy change and every day when I come to work is different.
I find the integration of different businesses very interesting. The internal audit function verifies that all implications of an acquisition on the risk and control environment are carefully considered. We also need to integrate these entities into the scope of the internal audit plan and integrate additional team members, which often involves new reporting lines, changes to the audit methodology and additional reporting to various governance fora.
Within internal audit, we have recently started looking at data analytics to analyse data and look for any conclusions from an internal audit perspective. It is a fascinating subject that we are hoping to grow in order to potentially use data analytics tools in the future.
Personally, I am also interested in sustainability. At FNZ we have a very strong sustainability offering. From a governance and internal audit perspective there is definitely a bigger focus on sustainability across the sector and beyond, and I am very interested in getting involved even more. I have learnt a lot also from third party internal audit consultants with whom we collaborate.
Outside of work, I am a director of a non-profit community interest company called Polish Professionals Forum that supports Polish professionals, including accountants and finance specialists, through their career in the UK. Through the forum, I have met a huge number of finance specialists, mainly Polish, and the network around them. It is through this and events in the Polish consulate, or events organised by other Polish organisations in the UK, that I have grown my network.
I am happy working within Financial Services and held various roles in different companies. Probably the only place where I have not yet been is the regulator itself. This may be potentially a step going forward. This would allow me to have a full picture of the financial services sector between all the lines of defence.