RCEP Facilitates Access to Both Enlarged Sales Markets and Lower-Cost Resources for GBA Businesses
Joint research by HKTDC Research and ACCA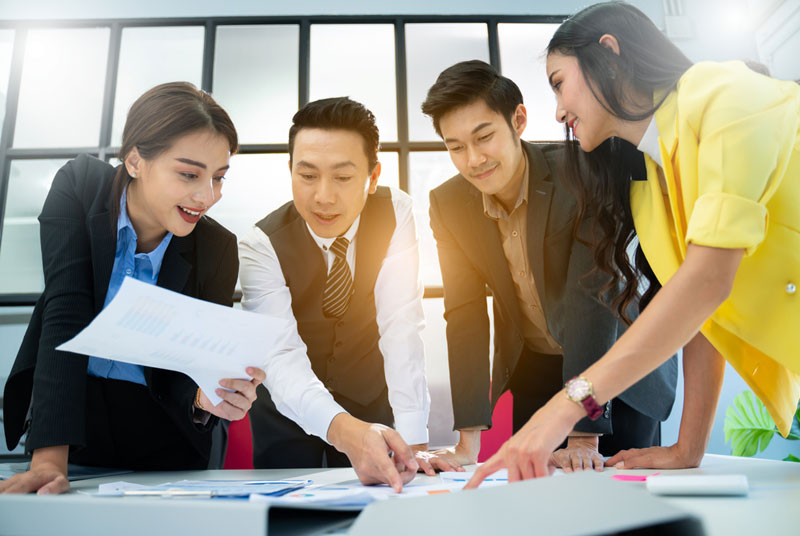 Businesses can grasp RCEP opportunities to enhance the competitiveness.
Interview with Caesar Wong, Managing Director of China Business Services at RSM Hong Kong
The members of the Regional Comprehensive Economic Partnership (RCEP) represent promising sales and resources markets for businesses for the Greater Bay Area (GBA), including Hong Kong. That's the view of Caesar Wong, Managing Director of China Business Services at RSM Hong Kong.
As a global professional provider of audit, tax and consulting services, RSM has significant exposure to the characteristics of the different markets in the region. Pointing out that RCEP countries have consumers with significant purchasing power, while at the same time making up a significant part of modern supply chains, Wong said: "RCEP provides diversity in supply and demand and a wider range of costs and sales markets. Businesses can grasp these opportunities to enhance their competitiveness."
One feature of RCEP is how it can act as a bridge between developing and developed economies. The new framework allows companies, including those in Hong Kong and the rest of the GBA, to tap into the supply chain and demand in those markets through the RCEP framework. Businesses from developed economies, restricted by high costs at home, can set up manufacturing bases in Association of Southeast Asian Nations (ASEAN) countries that are within the RCEP framework and sell in local markets.
Tariffs are another consideration. Businesses can benefit from lower or zero tariff levels when moving raw materials and semi‑finished goods among RCEP countries for processing or to ship to their destination target markets. This essentially extends the scope of existing free trade agreements (FTAs) to more jurisdictions in the Asia‑Pacific region and further afield.
Wong explained that the growth in the economies of developing RCEP members should lead to opportunities for service providers, saying: "The tertiary sector relies on the primary and secondary industries to be successful together. For example, developing agricultural products involves R&D, equipment and capital. Companies also need finance professionals to help make financing plans, tax experts to advise on cost‑efficient investment and operational structures, and accounting experts in different types of audit reports to facilitate corporate plans."
Leveraging from China's footsteps
As an experienced international tax expert who has worked with clients and government authorities in Hong Kong and mainland China for three decades, Wong has seen first‑hand how mainland China has evolved away from being simply an export processing hub into the largest "global factory" in the world. He predicts many of the ASEAN countries can leverage China's precious footsteps and invaluable experience to achieve economic success faster than China in the past.
That should eventually help them develop their international service industries locally. As income levels rise and workers accumulate expertise, ASEAN countries will in theory move up the value chain and build stronger tertiary sectors. Noting that this process will benefit these developing countries, Wong said: "The point is to manufacture in a cost‑effective manner for general consumers to purchase at affordable prices. It does not aim to exploit others' resources, but to help them develop and grow with increasing purchasing power and living standards."
Hong Kong service providers remain super-connectors
While helping overseas corporations to invest and operate in mainland China, Hong Kong service providers have also helped mainland Chinese businesses connect with the world for the past 40 years. Many of them have developed into reputable and popular multinational enterprises, and some of them have been listed on the stock exchanges in Hong Kong, mainland China and overseas. Wong believes they can use that experience to do the same for businesses that can leverage RCEP.
Over the years, Hong Kong has helped many overseas investors find local partners in mainland China for manufacturing or other industries while serving as a project manager, creating a three‑way business partner. He noted that now Asian companies are engaged in a similar process, saying: "Our clients were mostly from the overseas in the past. In the recent decade, we have seen more Asian investors, especially from mainland China, with brands such as Geely, Haier, Huawei, Mengniu and Xiaomi. China has transformed from an original equipment manufacturer to a brand owner with R&D and unique intellectual properties, while Southeast Asia is enhancing their processing and manufacturing."
Hong Kong's role, he believes, will remain similar. Service providers like RSM will continue to act as a professional intermediary, helping businesses conduct location studies, seek business partners in a new market, plan for financing, review draft contracts, support regulatory compliance. As a well‑established and popular super‑connector with international standards, Hong Kong has the reach in and knowledge of every promising market in RCEP.
The international city has been a gateway for businesses entering mainland China. Now, Wong strongly believes, Hong Kong will take on and deliver similar role for businesses looking to expand into RCEP region, especially ASEAN countries. Successful companies may also return to Hong Kong for listings to grow their business further.
Explaining why Hong Kong is well placed to play this role, Wong said: "Hong Kong has built up reliable and internationally excellent financial and transportation centres over the decades. Such continuous development is also supported by experienced international professionals based in Hong Kong." Hong Kong also benefits from its unique connection with China. Mainland Chinese clients naturally prefer working with Hong Kong service providers who have international professional qualifications, can speak multi‑languages and are familiarised with China businesses' cultures and management policies, and Wong remarked that Hong Kong service providers should use this comparative advantage, saying: "We can leverage China's continuing opening‑up policies to enhance our competitiveness. The important thing is to make good use of our solid experience in helping China transform from a manufacturing hub to a high‑end exporter over the past 40 years when we serve investors to the RCEP markets. Hong Kong has participated uniquely in this journey."
This article forms part of a joint study conducted by HKTDC Research and ACCA : Tapping the RCEP Opportunities: Hong Kong to Maximise GBA's Unique Edge as a Business Platform
Authors:
Wing Chu, Business Advisory Manager, HKTDC Research
Yuki Qian, Regional Head of Policy, ACCA China